In a world where pets hold a special place in our hearts, their health and well-being has become paramount. As pet owners ourselves, we strive to provide the best care for our furry friends, which is why the role of a veterinary clinic holds immense importance. Prioritising exceptional care at ZumVet, we are now taking a leap forward by extending our services beyond online remote care with our physical clinic "ZumVet Clinic" slated to open in August 2023.
Extending our services beyond remote care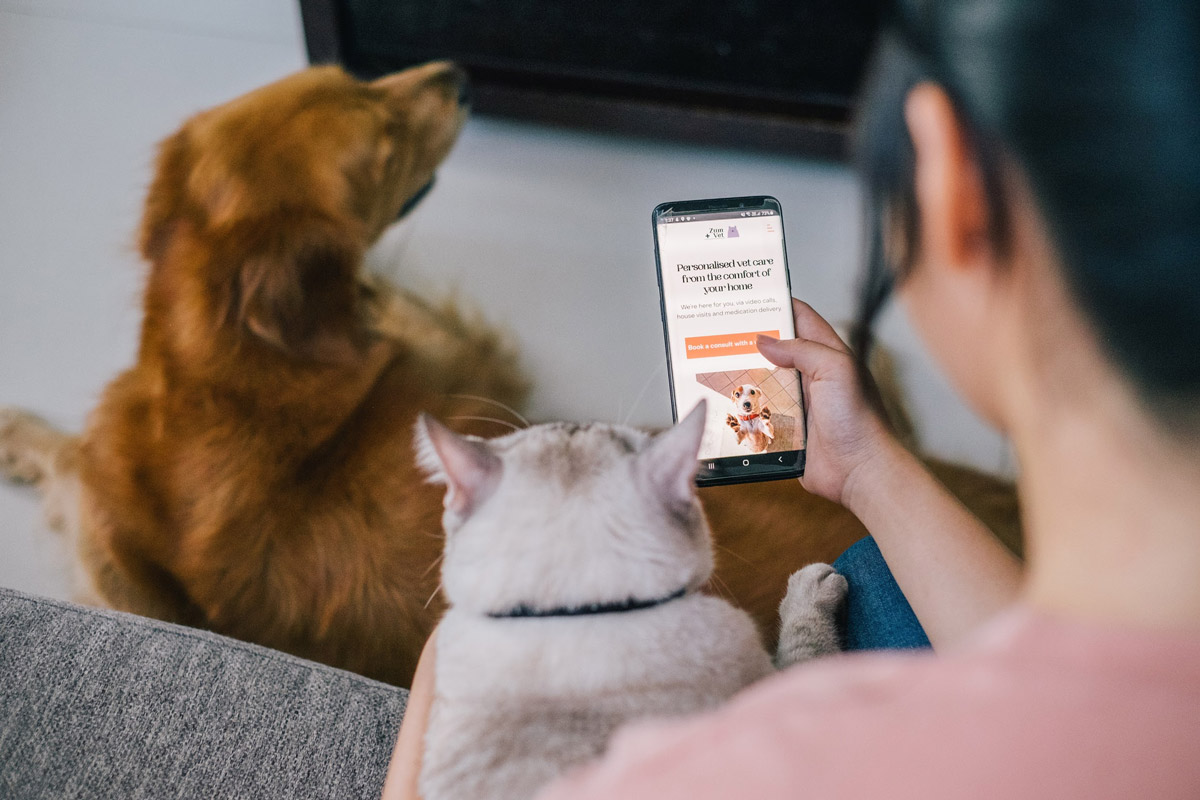 We are excited to announce beyond treating your pets' non-urgent conditions via teleconsultations, our treatment plans have extended to in-person consultations for urgent cases. We have enhanced diagnostics which includes physical examinations, laboratory tests, and other procedures that gather crucial information for accurate diagnoses and develop tailored treatment plans.
Expert Specialised Care
Our vet clinic is dedicated to safeguarding the health and welfare of animals. Our veterinarians undergo years of rigorous training and experience, possessing the expertise necessary to diagnose and treat a wide range of medical conditions that can affect our pets. Our clinic is equipped to handle diverse healthcare needs and even lab tests, ensuring that our furry friends receive the best possible care.
Preventive Care
Prevention is always better than cure and our vet clinic places great emphasis on preventive healthcare. Our vet clinic focuses on educating pet owners about the importance of regular check-ups, vaccinations, parasite control and proper nutrients. We also have 3 comprehensive health screening packages (Basic, Intermediate, Advanced packages) for you to understand your pet condition now. Please reach out to us to find out more.
By emphasising preventive care, we help pets lead healthier lives and minimise the risk of developing serious illnesses. Follow-ups can also be done through our teleconsults via ZumVet. Through our proactive approach, we aim to extend the lifespan and quality of life for our pets in our care.
Comprehensive Services
Our vet clinic offers a wide range of services that encompasses every aspect of a pet's health. Our services include:
Health Checkups and Health Screening packages: Comprehensive exams ensuring your pet's overall well-being and health
Microchipping: Safe and permanent identification for your per's security
Vaccinations: Essential protection against common diseases for a healthier life
X-rays: Advanced imaging for accurate diagnosis and effective treatment planning
Blood Tests: Detailed analysis for early detection and monitoring of health conditions
Dental: Professional oral care ensuring a clean and healthy mouth
Compassionate Approach
At our vet clinic, we understand the emotional bond between pets and their owners. We approach each animal with compassion, empathy, and respect, making their visit to the clinic as stress-free as possible. Our veterinary team goes the extra mile to create a comfortable environment, ensuring that both the pets and their owners feel at ease. This helps us strengthen the trust and confidence of our clients, enhancing the overall experience for both pets and humans.
Our Values and Commitment
At our clinic, we stand by our values and commitment in providing exceptional care, personalised and a holistic approach to veterinary medicine.
Transparency: Providing clear and open communication about alternate treatment options, costs, and expected outcomes
Convenience: Flexible scheduling options allow you to pick an appointment time that fits your schedule online or at the physical clinic
Ease of access: Prioritise minimising wait times and simplifying the entire process
Efficient and warm customer service: Prompt responses, timely appointments, and a welcoming environment
We are committed to upholding it every step of the way, ensuring that your pet's health and well-being remain our top priority.
Details of Our Clinic
Location
416 Ang Mo Kio Ave 10, #01-973, Singapore 560416
Timing
Weekdays – 10am to 7pm
Weekends (alternate days each week) – 11am to 6pm
How to Book
Head on to ZumVet.com, click on our chat button (bottom right side icon) and share your pet details and preferred time slots that you wish to book with our team!
Just have a quick question on your pet?
We have launched ZumVet Connect, where pet owners can receive free* personalised advice via text from qualified pet health professionals. Our pet health experts will reply based on your pet's existing conditions and share simplified treatment options. Leave a text and they will reply within 24 hours.
So much better than googling for general advice.
Ready to experience the effectiveness of online veterinary care for your pet? Take the first step towards convenient and reliable pet healthcare by booking an online vet consultation here at ZumVet today
*Beta version. Free for a limited time only