Valentine's Day is a time to celebrate love and affection, and what better way to do that than with your furry companion by your side? If you are living in Singapore, there are plenty of ways to spend the day with your pet and make it a truly special and memorable experience.
Here are 10 Lovely ways to spend Valentine's Day with your pet in Singapore that will help you strengthen your bond and create lasting memories.
Take a walk with your furkid at Gardens by the Bay
Gardens by The Bay is Singapore's most famous garden and it offers a wide range of flora and fauna that will surely delight you and your pet. Aside from the breathtaking Supertrees and the OCBC Skyway, the iconic garden also sets a peaceful and serene atmosphere that will help establish a relaxing moment for both pawrents and furkids, especially during the night time when the Supertrees starts lighting up! Besides, It also has pet-friendly amenities such as pet-friendly cafes for bOth pawrents and furkids to take a chill pill after hours of exploration in the beautiful garden.
Just be sure to keep your pet on a leash at all times and clean up after them whenever they defecate.
Have a picnic at East Coast Park
One of the most popular parks in Singapore, East Coast Park is another ideal location for both pawrents and furkids to hang out, especially for those that resides in the east of Singapore. It is one of the parks that has a beach and is definitely one of the best when it comes to quality amenities.
It doesn't haVe to be complicated when it comes to hanging out with your furkid in East Coast Park during Valentine's Day. Simply think of what could excite the both of you and you are good to go! If food is the key, you may want to pack a set lunch from home and head there to have a picnic with your pet on a nice mat while taking in the sights and sounds of the beach.
Feel free to add in some fun factor to spice up the date so why not bring along a frisbee or your furkid's favorite toy for a game of catch at the park's very own dog run.
Volunteer together at Healing Paws by SOSD
True lovE knows no boundaries. So, why not spend the day by giving back to your furkid's community? One of the best ways to do it is through volunteering and if your furkid is sociable and friendly, Healing Paws could be one of the best places for your furkid to spread some furry love and pawsitivity.
Healing Paws is a program set up by SOSD Singapore that allows pet dogs to participate in animal-assisted activities to provide comfort and warmth to persons in need. Through the program, owners and their dogs will be able to contribute their time by volunteering to provide companionship, motivation, and recreation in institutions such as children's homes, elderly homes, and hospices.
However, SOSD will require owners and their dogs to go through a screening process first. So, be sure to understand their requirements before filling up the signup form.
Overall, This is a great way to give back to the community and also to show your pet how much they are loved. In fact, there are many other local organizations that are willing to take in dogs that are suitable to participate in such voluntary activities. By volunteering together, you and your furkid will be able to make a difference in the lives of others in need.
Treat your furkids to a pet salon for a grooming session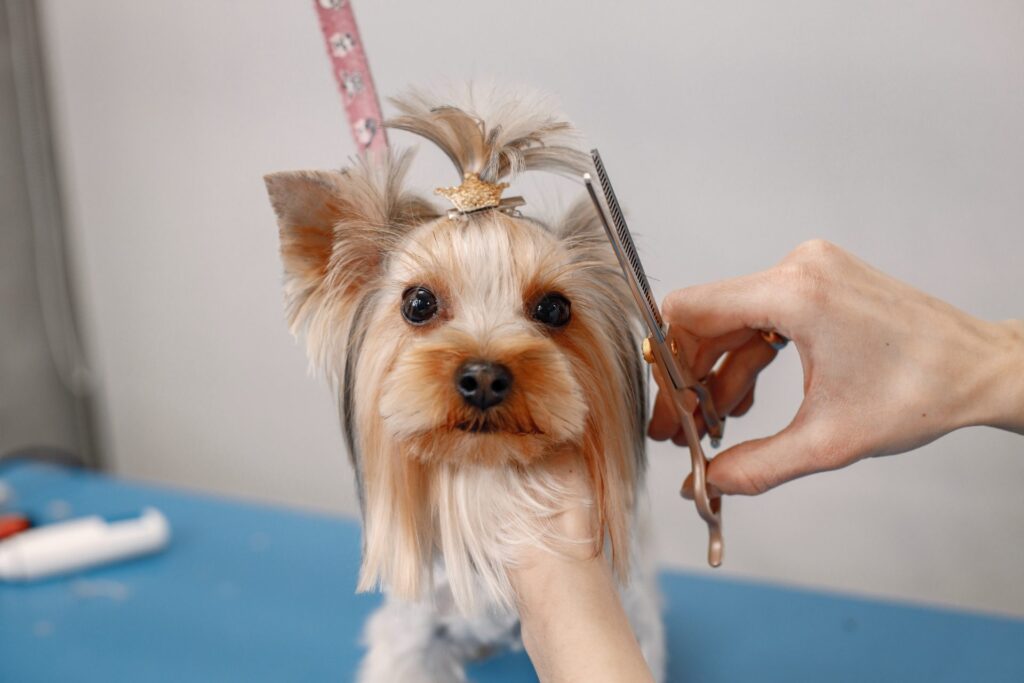 Well, it's Valentine's Day, and which furry pet doesn't like to Look as good as its owner while going out on a date? So, while you might be grooming yourself up for this special day, why not get your furkid to a pet salon for some VIP grooming treatment too?
One of the pet salons in town that provides some of the most comprehensive packages is Mewtants and Woofs. Not only will your dog or cat be able to enjoy a session of meticulous grooming and fine cuts, but it can also enjoy the benefits of mud spa therapy or a jacuzzi session for the maximum indulgence.
Go on a pet-friendly guided activity
Do you feel like You just end up going for the same activities you normally did with your pets when you stick to planning them yourself? If this feels familiar to you, you might want to commit to making Valentine's Day with your pet an extra special one by looking out for guided activities organized by pet-friendly operators.
By engaging in pet-friendly guided activities, Valentine's Day can be so much more interesting as you and your furkid might be able to engage in entertaining activities that are only available through operators. Seek Sophie has a huge list of them. From kayaking to explorations or even going on a yacht trip with a group of friends!
This is a great way to discover new spots and definitely a valuable opportunity to have a memorable adventure together.
Go for a professional photoshooting session with your pet
There's no occasion more ideal than Valentine's Day when it comes to taking couple shots.. Even with your pet! Moreover, a romantic occasion like this usually calls for something special that can really revel in the high-resolution nostalgia whenever you look back at it.
So, why not take a look at professional photographers such as the crew from Bespoke Photography, who are capable of taking exceptional quality photos of you and your pet? All you need to do is to decide on the setting and let the professionals handle the rest.
The crew at Bespoke Photography allows owners to select between a studio package or an outdoor setting package, and they are experienced in opening up pets to get ready for professional photoshoots together with the owners.
So, if you are looking for a Valentine's Day program that is uniquely timeless, this could be it.
Go on a playdate with other pets
If Valentine's Day is just another day to meet up with ALL your loved ones, including those who are pawrents themselves, organizing a playdate together with the furry ones could just be the most awesome thing you can do.
You can do almost anything mentioned in this list with the ones you truly care about the most but if you are looking at organizing something more enclosed together, The Sundowner has got a pet-friendly space available for booking with tons of interesting activities that can keep everyone entertained.
Nestled within a conserved shophouse, The Sundowner is a nature-based experience centre that offers rooftop farming tours, nature-related workshops, as well as F&B classes. On top of that, they also provide chillout sessions for those who would prefer to disengage and simply relax with drinks at the bar, rooftop movie sessions or even a magic show. With such a wide array of activity choices in a private setting, you, your loved ones, and the furkids are bound to be entertained for the day!
Do note that The Sundowner only operates via bookings and is not open for walk-ins so do check their booking criteria and services by visiting their website for more information.
Go on a pet-friendly staycation
Staycations are another fantastic option that allows you and your furkids to stay away from the crowd, lay back, and relax. At the same time, you can always head out to the nearby indoor/outdoor amenities for a more outgoing experience whenever you want to.
So, if a change of scenery and atmosphere is what you have been looking forward to with your furkid, this is a great idea to consider. To help you get started, check out this list of pet-friendly staycation options shortlisted by Confirm Good!
Cook a homemade meal for your pet
Nothing beats a special meal whipped up personally by a pawrent to their furkid as they are simply one of the best ways to convey the true love they possess for their pet.
There are a ton of pet-friendly recipes available online but it is important to look at the ones that are absolutely safe and nutritious for your furkid, no matter if it's a recipe for cats or a recipe for dogs. You can also be creative with it by topping them up with your pet's favorite treat that you usually feed it with.
Get your furkid a Valentine's Day special gift
On top of the previous tip, you might also want to consider presenting your pet a very special gift for the occasion.
Look around the home to see what's missing or what could complement your pet's lifestyle to make it even better. Could your pet need a pet sofa, a pet carrier, a harness, or even a simple pet bowl?
If you are running out of ideas, look no further than Zumshop, our e-commerce store with a wide array of interesting pet supplies and vet-recommended products that will keep your furry one feeling healthy and safe.
Unleash the love and keep it pawsitively romantic
In the world of pet ownership, love is a four-legged word. Our pets play a huge part in defining our lives and even who we are as individuals. This is why Valentine's Day is always an opportune moment to show them the deepest appreciation of their presence and for the unconditional love they have shown to us all these while.
We hope this guide has been helpful in spurring some inspiration for a pawtentially romantic activity during Valentine's Day and be sure to consult the professional vets at Zumvet for any health-related issues with your pets at any point in time.